Pragya Anand, Prama Anand & Nirmolak Singh
The first time you see Mount Rainier, you can't help but bow down to its majestic presence over Seattle, every glimpse of that mountain
brings u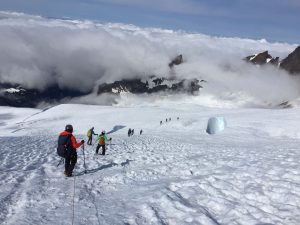 pon the widest smile.
" I climb so I can see more – of this world and me" I thought of this quote after several climbs and realized it sums it up for me. With every climb, the views got prettier and the world bigger. The push and struggle through it taught me so much, but most importantly it brought in the realization that we are so privileged to even attempt this.
I have come to understand that my ability to have such an experience is just a function of my socio economic status! My education in the Unites States, my life here is more due to this imbalance in our society and which is why I decide to support Asha whose mission statement is "catalyze socio-economic change in India through the education of underprivileged children".
Why support us?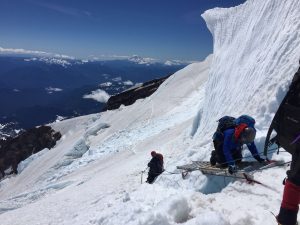 We implore you to support Asha because having seen up close the impact it has as an organization and the need for such organizations. The reason education is one of the most important services that must be universally available is because educatio n is the key to a better world. Education, as John Dewey observed, is not just a part of life but life itself. For any society to be successful the weak and the vulnerable need to have control over their lives for which education is one of the first and important steps.
Asha and it's volunteers are rendering an amazing service to make this possible. Asha is a completely volunteer driver organization with a perfect rating from Charity Navigator.
Nirmolak Prama Pragya- the three of us have been climbing together for a while, we train and go together and have made climbing a family activity 🙂 !! We really believe in this cause and hope you can help us raise $2500
About GRAVIS:
Gravis, a project of Asha's which will be supported by your proceeds, supports about 1.2 million people living in over 1,300 remote villages in Rajasthan and Uttarakhand.
In drought affected areas, girls are tasked with carrying water and firewood from long distances. As a result, they often drop out of schools to help in contributing to household income or take over domestic responsibilities. GRAVIS helps in developing an area specific model focusing on water security, health care and education to benefit the rural communities. This has helped the girls of the village pursue education that they would've otherwise been denied.
Here is an independent evaluation of the Asha supported work done by GRAVIS since 2008.
For more information about Asha visit: http://seattle.ashanet.org/home/about/
For more information about GRAVIS visit: http://www.gravis.org.in/
We are looking forward to your support and your wishes.
Note:
Employer Matching: If you donate using this page and your employer provides matching donations, please submit a match request to them too and let me know. All your Donations are Tax deductible.