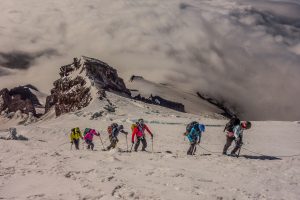 It is not only the tallest mountain in the Washington state but also is the most glaciated mountain in the lower 48 states. It is also called as Tahoma or rather to say 'mother of water' in Salishan.
Elevation: 14,411 feet
Number of days on a trip: 3-4 days
Routes used: Disappointment Cleaver (DC) or Emmons-Winthrop are the basic routes typically used to reach the summit. DC route does provide a challenge with objective hazards with sea od climbers on the route while Emmons route is less prone to objective hazard but has route finding challenges. Overall, we choose the route based on the snow conditions and best information available to the rangers to help the chances for our climbers to succeed. It should be noted that although Emmons route might be safer at times, it is a bit longer and has more elevation gain to achieve on your feet as you start hiking from lower elevations at White River Campground and also camp at approximately 9,500 feet rather than at Camp Muir or Ingrahm Flats when on DC route.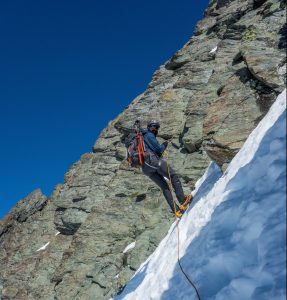 It may be the ninth-highest in the Washington state but is a huge glaciated massif as the name suggests in Lummi. It is also the most photographed mountain the Cascades. Climbing it surrounds you with the hike through a pristine forest, a moderate glacier to exhilarating achievement for the one who stands on the summit ledge.
Elevation: 9,131 feet
Number of days on a trip: 2-3 days
Routes used: Sulphide Glacier. Climbers will need to have some experience with scrambles or willing to actively participate in 'Intro to Rock' provided by a number of climbing organizations and guiding companies in the area.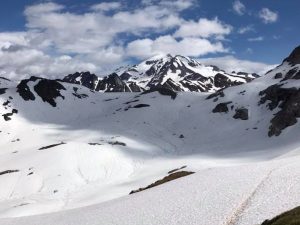 Glacier Peak or Dakubed is the most remote/isolated of the major 5 stratovolcanoes of the Cascades in the state of Washington. It is known to provide the climbers with pristine landscape and backpacking into mountaineering experience including a section of glacier travel on the summit day.
Elevation: 10,541 feet
Number of days on a trip: 4 days
---
Climb for Asha started with a bunch of friends affiliated with Asha who also wanted to climb Mt. Rainier. In 2010, it was an informal climb supported by volunteers who in addition to being Asha affiliates had experience and knowledge of mountaineering supporting their friends, new to the mountains but all with the same objective of fundraising for Asha. The 2010 & 2011 climbs did not have a fundraising goal or a volunteer-led training component. In 2012, it became an official Asha fundraiser supported by volunteers to lead weekend training hikes & preparatory climbs. It was open to everyone with a commitment from each participant to raise at least a nominal amount of money for Asha projects. Every year, some of the climbers from previous year return to volunteer as leads for the climbing program. Just like Asha, this is a volunteer-led program. Since its inception, the program has grown, we've had a new set of dedicated volunteers carry it forward with fresh new ideas and contributions to improve the process. But our mandate has remained the same: to raise funds for Asha for Education. In addition to organizing training hikes every weekend, helping climbers with fundraising, organizing climbs to St. Helens & Mt. Adams, the leads conduct training hikes for volunteers to refresh our skills before the Asha season begins. Many of them are also involved with the Mountaineers club.
---
---