If you ever think to give up anytime, just think about the efforts that you have put in to reach there, they you rather never dream about giving up.
Sankar is an accomplished IT Professional by profession, living in Seattle since 2007. He has been running and biking for the past 9 years.
His passion for running brought many accolades and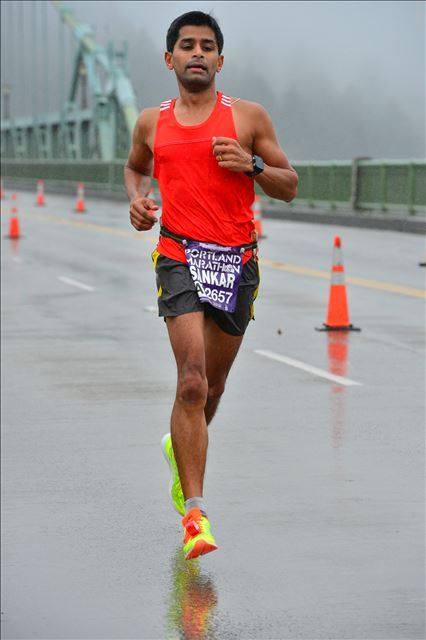 podium finishes his way. He learnt so much from his experiences and wanted to share what he learnt in a more authentic way, and that motivated him to complete Road Runners Club of America Coaching Program and trained a group of 20 runners.
He is also a certified Yoga instructor from Yoga Alliance,  Yoga Instructor at Bellevue Community College. He is currently training for Berlin Marathon 2017 for a sub 3 hour marathon. His goal is to complete at least one Iron Man (70.3) and attempt Badwater Ultra at some point in his life time.
Here are some of his Podium Finishes/Accomplishments.
Qualified for Boston Marathon @ Portland Marathon 2016 with 3:07
Completed Road Runners Club of America Coaching Program and training a group of 20 runners
Certified Yoga Instructor from Yoga Alliance, Yoga Instructor at Bellevue Community College
3rd Place Spice Coast Full Marathon 2015 (Male)
2nd Place Bengaluru Full Marathon 2015 (30-35 Age Group)
1st Place Microsoft 5k 2015
Best Runner Male Award – 2014-2015 – Hyderabad Runners Group
1st Place Ladakh Full Marathon 2014
2nd Place Wipro 10k 2014
2nd Place Microsoft 5k 2014
2nd Place at Hyderabad Duathlon 2013